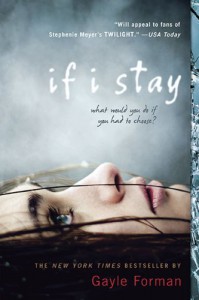 As always, I've waited until the hype of this book (and movie) have died down a little. I personally find it difficult to fully experience a book with everyone else's opinions being thrown at me.
I know most people LOVE this book, but I just don't. The story is well written and beautifully sad, the fact that it is (very loosely) based upon a true story hurts my heart all that much more, but I just thought that Mia was too much of a generic teenager. Sure, [a:Gayle Forman|295178|Gayle Forman|https://d.gr-assets.com/authors/1383395848p2/295178.jpg] depicts her as a semi-outcast-classical-music-loving-geek, but she seams very bland to me, and often (even during the 'real time' narrative) I kept picturing a younger girl, maybe twelve or thirteen.
I would have probably given this book four stars if it wasn't for how let down I feel.
I guess I was expecting a little more from this book after all the amazing reviews I have heard.